Michael A. Chuparkoff
Weyls Peters + Chuparkoff LLC
6505 Rockside Road, Suite #105
Independence, Ohio 44131
Email: mac@w-pllc.com
Direct: 216-503-9240
Mobile: 330-858-1904
Bar Admissions: Ohio & Florida
Education: University of Akron School of Law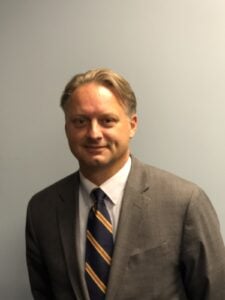 Michael A. Chuparkoff | Partner
Michael A. Chuparkoff has been an attorney for more than 25 years and is licensed in the state courts of Ohio and Florida, as well as in the federal courts of Ohio.
His practice focuses on three main areas:  Real Estate and Business, Probate and Trust/Estate Planning, and Family Law.  He was formerly in-house with two real estate developers and has represented real estate developers, closely-held businesses, and entrepreneurs in real estate and general business matters, including the entitlement and due diligence process, leasing, financing, construction, construction management, and landlord-tenant issues.  He has extensive experience dealing with both national and regional tenants and their counsel, as well as negotiating and drafting LOIs, leases, extensions, terminations, REAs, PSAs, ground leases, construction contracts, loan agreements, and related financing and security documents.  He has negotiated and advised clients on construction, leasehold, and permanent loan financing with conventional lenders as well as life insurance companies.   And he has worked with and helped supplement in-house counsel in a variety of legal matters dealing with the foregoing.
Because the firm's real estate and business clients invariably have a need for representation in the areas of Probate and Trust/Estate Planning and Family Law, he has developed and maintained those practice areas as well.
Michael also handles the firm's trust and estate planning, and probate administration and avoidance, helping clients review their personal and business assets and counseling on how those assets should be titled or held so as to best avoid the time and expense of probate and enabling the prompt and efficient transfer of those assets to their heirs.  This includes the preparation of traditional Wills and POAs, and sometimes the use of various revocable or irrevocable trusts.
Lastly, Michael represents the firm's clients with respect to family law matters, ranging from divorce or dissolution to child support, child custody/visitation, and shared parenting/sole custody issues.  He has handled complex divorce litigation involving the valuation and division of closely held businesses, retirement plans, and public employee pensions.
He has tried jury and bench trials before the state courts of Cuyahoga, Medina, Portage, Stark, and Summit Counties, and has argued multiple times before both the Ohio State Courts of Appeal and the federal Sixth Circuit Court of Appeals in Cincinnati.